by Project ALERT's Bridget Ryan
The days grow long standing around between scenes on a photo shoot. There is time for people watching and talking to make-up artists, vehicle wranglers, sound techs, caterers, actors and their parents.
Rain Gregorio, a junior at Long Beach Poly High, is an actor. He has an agent. And he's done commercials. He auditioned the week before and landed the lead role in the remake of
Paul's Fix
.
Now he is going over his lines again and again. I am a willing audience. He stops to tell me:
This was my favorite
.
You're favorite line?My favorite video. I remember it. Doing the lines. Acting it out. There were several but this was my favorite.'Kayso …You know about Project ALERT?
Yeah… Ms. Singleton's class at Hughes Middle School. I guess it's the circle of life.

Long Beach Unified uses Project ALERT district wide. Nancy Singleton taught the program from 2003 until her retirement in 2009.
A DVD mailer containing updated Project ALERT videos was sent to every trained Project ALERT teacher at the start of this school year. If you have not received your DVD update, please let us know and we will refresh your contact information.

Another Coincidence
Not only is Rain a former Project ALERT student, but we couldn't help but notice his resemblance to a character Tennessee artist, Tuesday Mourning, created for Project ALERT's Fall of 2009 outreach campaign. See for yourself…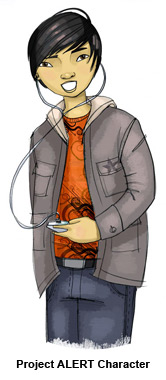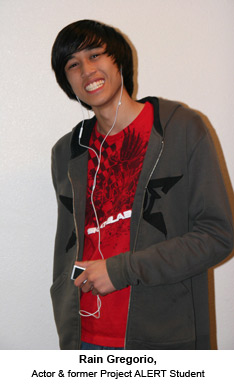 Location, Location, Location
Paul's Fix was shot on location at SKATELAB in Simi Valley, CA. The Museum inside SKATELAB has a collection of over 5,000 vintage skateboards and is home to the SKATEBOARDING HALL OF FAME.
You can find plenty of current and former Project ALERT students skateboarding there. The Simi Valley school district has been using Project ALERT since 2001.
Fall 2010
Contents
Mailing List