by Andrea Warren

Project ALERT educator, here's your assignment:

Present Project ALERT by yourself to students in grades seven through twelve in thirteen schools in Alaska that are in remote villages scattered throughout an area the size of West Virginia. Your largest school has seventy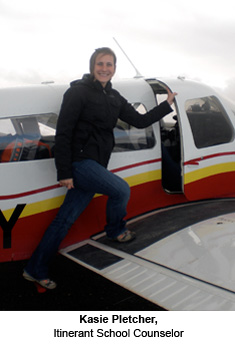 students and the smallest has ten. Because these schools are "off road," they are accessible only by air, requiring that you book one of the five to nine seats on the local mail plane—provided there's room. It also means staying flexible: you fly whenever the pilot is ready, give or take a few hours.

Once you reach the first school, you'll have to stay overnight. The village is tiny and if it lacks itinerant housing, you might need to sleep on a cot in the school's science room. On rare occasions the school must close because the wind is throwing rocks at it. Outside, winter temperatures can plunge to twenty degrees below zero. After visiting this school, you still have twelve to visit—all via the mail plane.

Kasie Pletcher, a counselor with the Lake and Peninsula School District (lpsd.com) on the Alaskan Peninsula—the "tail" of land extending south from the Alaska mainland—wondered if there was an easier way. Kasie joined the two-person counseling department in the fall of 2010. Delivering Project ALERT to the district's students was one of the responsibilities assigned to her. Not only had her predecessor run into obstacles trying to present the program in person at each school (see above), but district budget cuts had decreased the allowance for staff travel, limiting how many visits Kasie could make to each school.

She was fortunate with Lesson One, for she was able to present it to all the seventh through twelfth graders when they attended a district athletic meet. But even though Kasie knew she'd never get all the lessons taught this year, she wanted to present at least two more. Students needed them. Alcohol and drug abuse is a major problem in Alaska. Meth usage is growing, and an estimated one in three native Alaskans uses tobacco. Usage is impacted by isolation, particularly during Alaska's six to seven months of winter, regardless of individuals' poverty or prosperity.
Technology to the Rescue

Kasie had an idea. All faculty members were familiar with a web-based program the district was trying out called Webex. Administrators were testing its applications for at-a-distance professional development. Even in the most remote locations, staff could log into the Webex site to participate in web conferencing with other educators in the district. They could see and hear each other and view videos and handouts. Schools also had smartboards, that could interface with Webex so that participants could write out questions or responses that were visible to everyone signed onto the website.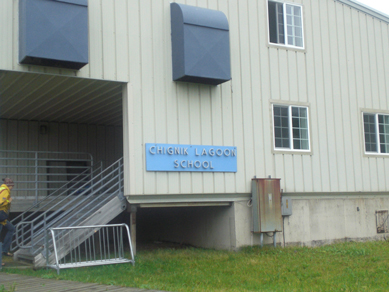 Kasie reasoned that she could use this technology to present Project ALERT from her office in Chignik Lagoon. Students hundreds of miles away in places like Igiugig, Pilot Point, and Kokhanok could listen to her presentation and see visuals pertaining to the lessons. Assisted by a volunteer teacher, they could use their school's smartboard to ask and answer questions as they worked together in small groups in their classroom.

Kasie set to work preparing visuals using Project ALERT materials that she would use to present Lesson Two and Lesson Three. She timed each to be ninety minutes in length. Because of classroom testing, scheduling proved to be challenging, but she was able to secure dates just after spring testing was finished. With Webex she could present in up to six schools at a time, so she included the schools north of the district offices in King Salmon, Alaska, in one session, and the schools in the south in a second.

On the appointed day and time, shortly after students in seventh through twelfth grades began the first online class with her, Kasie knew that her experimental delivery method was working. "From the beginning, the kids seemed to be attentive and involved. I was pleased with the thorough responses they gave to my questions."

A drawback was that students couldn't watch her as she delivered the lesson. "We have some challenges with technology here," Kasie explained. "We've only had cell phone usage for a year, and just like our landlines and internet, connections in our villages can be unreliable. I knew from using Webex that turning on the live-stream video really slowed the program, so we used just the audio for me. Students could see all the visuals and they could share their typed questions and responses with students in the other schools. I think it worked very well."

Overall, she was satisfied. "The teachers were happy with it and said their students were engaged. I think the Project ALERT lessons adapt well to this because of the way they're laid out. The information is specific and that helped in facilitating classroom discussion."

Drug Abuse Alaska Style

When Kasie arrived in Alaska in August 2010 to assume her new job, she wasn't familiar with Project ALERT, but she took the online training. She learned very quickly that many Alaskans smoke, drink, and rely on drugs.

"Cigarettes, alcohol, and hard drugs are used heavily throughout the state," she said. "Lifestyle factors into it. Without roads, people don't get out and about. Many villages have only a school and post office. Some have a store, so they can buy cigarettes, and a few have liquor stores. But people can get what they want in Anchorage, or they can order it in Anchorage or from Seattle. Supplies are shipped in by plane or on barges or ferries."

According to Kasie, hard drugs are readily available. "Everybody seems to have connections. I've only been here a short time, but whenever I go to Anchorage I always see people I know. Alaska is big—our school district expands 400 miles—but the population is small and people know each other. From what I understand, it's no problem getting marijuana or meth, which seem to be the drugs of choice. And it's easy to get over-the-counter and prescription drugs."

Kasie hopes to deliver even more Project ALERT lessons during the 2011-12 school year. "This is the best program for us because it addresses both drugs and alcohol. We're the first school district in Alaska to implement substance abuse prevention via distance delivery, but I don't think we'll be the last. Though we talk about being on our own planet here, our students face some of the same problems as the Lower 48, and Project ALERT can help."
*****
Kasie's Alaskan Adventure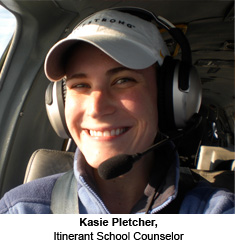 Twenty-five-year-old Kasie Pletcher came to Alaska from her home in Pennsylvania almost on a whim. She had never set foot in the state when she interviewed with the Lake and Peninsula District's superintendent at a job fair at Penn State. "I was just finishing my master's degree in counseling and I thought, why not? I love adventure."

Getting to Chignik Lagoon where she now lives was her first adventure, one that she repeats each time she returns from visits to family in Pennsylvania. Flying from Pittsburgh to Chicago and then onto Anchorage takes a minimum of ten hours. At that point she's still 450 miles from her Alaska home. After an overnight in Anchorage, she leaves on a 7 a.m. flight to the airport in King Salmon, where she waits for the mail plane to be loaded. If there's too much mail that day, she may have to stay in King Salmon another day unless some of the mail is left behind. The flight to Chignik takes ninety minutes. There's no airport. The mail plane lands on a dirt airstrip and Kasie has to hope there'll be a friendly truck driver around who will drop her off at home.

Her school district likes to recruit teachers from Pennsylvania, Kasie said. "I think we Pennsylvanians do so well here because most of us like the outdoors and our climates are so similar." Kasie was part of last spring's recruiting team, stopping at three Pennsylvania job fairs to seek new faculty.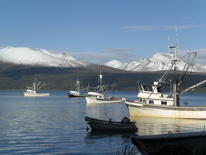 Distance is only one way she's had to adapt. Chignik Lagoon has fewer than 75 people, a mix of whites and natives. It's a prosperous fishing village since it's located on the south side of the Alaskan Peninsula with all its commercial fishing. "My observation is that most fishing communities have money," Kasie said. "Chignik Lagoon is one of the wealthiest villages in what we call the Alaskan bush, yet people here live very modestly."

Like other faculty, Kasie lives in an apartment provided by the school district. "The lifestyle here is very different," she said. "There's no place to go out to eat or to see a movie, so we socialize by playing board games, cooking dinner, or going for a hike. I love being outdoors and I enjoy the travel to all our schools and getting to know our students.

"I faced a lot of unknowns when I arrived in Alaska. I met people who've lived here all their lives and I learned that anybody can do this if they're willing to try. It's so beautiful—I decided quickly that it would be okay. I'm glad I'm here."
Andrea Warren is a journalist and author who lives in the Kansas City area. Her seven award-winning nonfiction books for young readers include Orphan Train Rider, One Boy's True Story; and Surviving Hitler: A Boy in The Nazi Death Camps. Her newest, Charles Dickens and the Street Children of London, will be out in November.
<strong><br /></strong>
Fall 2011
Contents
Mailing List