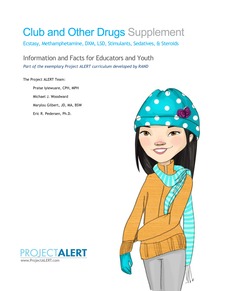 Ecstasy, methamphetamine, DXM, LSD, stimulants, sedatives, steroids - these are some of the "party drugs" passed around in dance clubs, shared at all-night raves, and exchanged at weekend music festivals. Some users report feelings of euphoria and being disconnected from reality; users may be attracted to the pseudo-cool factor among peers and sharing the experience with others. However, negative effects can be severe – over-hydration, dangerously high body temperature, insomnia, seizures, paranoia, cardiac rhythm abnormalities, flashbacks that may last for months (a well-documented consequence of LSD use), and liver damage, to name a few. While data show that most club drugs have low prevalence of use among teens, it is important to note that, for most of these substances, use typically doubles and triples between 8th and 12th grade.[1]
To help get the word out on the dangers of these substances, Project ALERT has recently published its newest supplemental guide, Club and Other Drugs: Information for Educators and Youth. This replaces the Prescription and OTC Drug supplement and the previous version of the Club Drugs supplement. Please see our Heroin and Other Opioids supplement for information on prescription opiates. We recommend that you share this and our other guides on marijuana, e-cigarettes, and heroin/opioids with your students, as well as set aside some class discussion time. Our supplemental drug guides are great resources of information and are useful take-home tools for teens. As with our other guides, we kept the language at a middle-school comprehension level so that young minds could understand basic concepts and retain important information.
We'd love to hear from you
If you've received an email or postcard about our Project ALERT State of the Program survey, there is still time to respond! We really depend upon feedback to continually improve the curriculum, whether or not you're using the program. Check out the link (and the great prizes) below! Deadline to complete the survey is May 15th!
New research opportunity
If you are a teacher, prevention education specialist, principal, or other administrator at a middle school in California, Colorado, or South Carolina, and are interested in partnering on a research project, please contact us. Your school will receive enhanced support (and monetary incentives) to implement Project ALERT. We are looking for schools to partner with regardless of whether the school is currently using the program or not. Email us at projectalert@rand.org for more information.
Get your cameras and iPhones rolling!
Finally, our first-ever video contest is in full swing. Lindsey and the gang are awaiting your take on their timeless story of teen angst and peer pressure. See full contest information on our web site. But don't delay - the deadline for the video contest submissions is May 15th!
As always, we thank our 30,000+ community partners for supporting Project ALERT!
---
[1] Johnston, L. D., O'Malley, P. M., Miech, R. A., Bachman, J. G., & Schulenberg, J. E. (2017). Monitoring the Future national survey results on drug use, 1975-2016: Overview, key findings on adolescent drug use. Ann Arbor: Institute for Social Research, The University of Michigan.
Spring 2017
Contents
Mailing List