New Poster Highlights Dangers of Vaping
In the last few years, we've made many revisions to our curriculum manual. One of the most significant updates is the inclusion of information on e-cigarettes. We've added references to vapi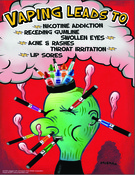 ng in every tobacco-focused lesson, as its use has surpassed traditional cigarette use among young teens. These references appear in lesson discussions, roleplays, quizzes, and take-home materials. We also have published a supplemental guide on e-cigarettes.
As vaping continues its upward trend among young teens, Project ALERT has published a new poster that highlights its negative impacts and dangers. We hope you will make good use of "Green Vaping Guy" to help get the message across to your students that vaping is not a good alternative to tobacco, that most people who choose to vape eventually add traditional cigarettes to their smoking routine, and that the best and healthiest option is not to smoke at all.
We want to thank Hap Brandon, Vicky Azevedo, Dr. Pam Luna, and our community partners at the Anaheim Union High School District for creating this new poster. We think it's awesome!


Winter 2018
Contents
Mailing List